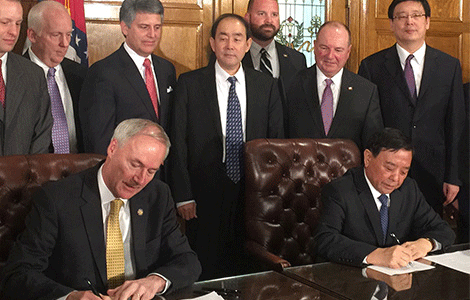 Arkansas Expects $2 Billion Pulp Mill Build to Start in March '18
(USA, June 19, 2017) The Arkadelphia Regional Economic Development Alliance and Area Chamber of Commerce announced the planned $1 billion pulp mill to be located in southwest Arkansas is now in the pre-engineering stage with construction set to begin in March 2018.
The plant, operated by , is expected to consumer 10K tons of southern pine chips a day with the end product eventually shipped and sold to makers of rayon clothing. Sun Bio is part of the giant Chinese firm Shandong Sun International Paper Company. Sun Paper Chairman and Founder Hongxin Li said the south Arkansas mega-project will create 250 new jobs at an average salary of $52,000 a year. (Source: ConstructionEQUIPMENT.com)
Cover Image: On April 26, 2016, Chairman Li and Governor of Arkansas Asa Hutchinson signed a Memorandum of Understanding in Little Rock, Arkansas, in the witness that Sun Paper has selected Arkadelphia City of Arkansas for its first pulp mill in the United States. The project will create 250 full time direct jobs and 1000 indirect jobs in the local, with an estimated investment of $1-1.3 billon.